Serious Caroline
I have serious babies.
I mean, look at that face…
I can't decide if she's just taking it all in, or if she's annoyed over something or if she thinks we're all crazy and doesn't know how she ended up in this wild family.
But Andrew was the same way. He made that face all the time.
I swear he only smiled a hand full of times before he was three months old. I don't think it was that he was unhappy, but that he didn't have time to be silly – he had to study what we were doing so he could learn it to do it himself, and soon. He was in such a hurry.
But this baby, she smiles, too!
See??
Is that not just the sweetest thing you've ever seen? Oh, I'm so in love with this baby.
She's pretty laid back and doesn't get too upset unless she's hungry. She's a fairly decent nighttime sleeper and so far she has been a rock star napper, the exact opposite of Andrew, who slept great at night, but was wide awake most days.
And on Tuesday when Brian and I were both sick, sick sick after catching the stomach bug, I was really grateful for our peaceful, happy baby.
Yeah, that happened.
My sweet friend Deb is hosting a new link-up called This or That Thursdays. I'm excited because we can post a photo of anything and since I seem to only have photos of Andrew and Caroline these days this seems like a great link-up for me!
I'm very excited to participate this first week!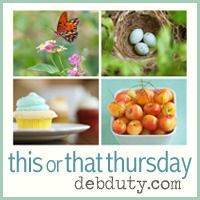 Labels: Caroline, Motherhood, Photography