Pumpkin Picking
Oh October.
You make me so happy with your pumpkins and your hay bales and your cool weather and crispy leaves.
Okay, maybe no cool weather here in Texas. But we have pumpkins.
And my little family was all together this weekend, and my heart was full.
We went to our favorite pumpkin patch,
Owens Spring Creek Farm
, on Saturday.
There were horses! and pigs! and a hay ride!
Caroline and Andrew were the cutest kids ever. They wanted to see it all, and Andrew ran, full speed, through the rows before he picked his favorite little pumpkin to take home.
It was one of those days you don't forget. I feel so blessed!
{We
went to the same pumpkin patch last year
when Caroline was brand new and snuggled in the Moby wrap the whole time. What a difference a year makes!}
>>>>>>>>>>>>>>>>>>>>>>>>>><<<<<<<<<<<<<<<<<<<<<<<<
Linking up: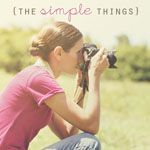 Labels: Andrew, Caroline, Holidays, Photography, Weekends