It's May!
Hello May.
May?? What? How did that happen?
I swear life is flying by in the blink of an eye. There are only two weeks of Mother's Day Out left. I'm a little sad about that. Andrew will be too.
He loves it so much. Today was pajama day, and he was so very excited that he ran out the back door while I was still in the shower and set off the house alarm.
That was exciting.
So it's pretty much summer in Dallas. Last summer was so brutally hot that I'm a little scared for this year, but surely it will be more bearable because I won't be nine months pregnant.
I will be carrying around my 20 pound baby in the Ergo though.
So maybe it won't actually be any better. Huh.
This 20 pound baby is keeping me on my toes! Earlier this week she got into the pantry and opened a handful of coffee pods with her teeth. She has a sixth sense about the dog's food and water bowls, racing straight for them the moment I've put them out for Fenway.
And then yesterday she climbed up the stairs.
On this weekend's to-do list: re-baby-proof the house!
I'm also hosting a sip 'n see here on Saturday for my friend Kelli and her baby boy. I'm so excited about it. I've been getting the house all ready and making party decor. I will share details next week!
Y'all have a happy Thursday!
Linking up: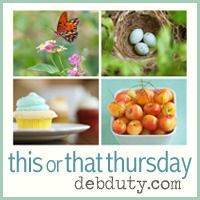 Labels: Andrew, Caroline, Motherhood, Musings, Photography