Coffee and Twine
Y'all, it's been a doozy of a week around here.
The kids and I started getting sick on Monday and by Tuesday morning I had a terrible awful cold with aches and chills and a cough. And then I lost my voice.
Andrew was stuffy and snotty, but not sick enough to slow down, oh no. He has never been sick enough to slow down. He's the energizer bunny.
Sweet Caroline's just been kind of whiny and snotty, but luckily she didn't get too sick either. Really it was just me.
And Brian has been working so hard it's insane. We've barely seen him this week. We're all missing him.
One bright spot this week was my new coffee cup. I'm in love.
When I read Organized Simplicity in February I decided to give up my daily drive-thru iced lattes. I was sad, but I'm also saving tons of money. :)
So I started making iced coffee at home with our Keurig and Green Mountain Coffee iced coffee pods. It's really, really good and soooo much cheaper.
And now I've saved so much on coffee that I bought myself a Copco cup.
I love it. It makes my coffee happy.
I also got my
Divine Twine
this week.
I have no idea what I'm going to do with it, but it's so pretty I may just look at it.
Actually, I'm having a party here in a few weeks, and I think I'll use it for some cute party favors and decorations.
And I can use it on gift tags or cards.
Endless possibilities, really.
I hope your weekends are filled with fun pretty things!
Linking up: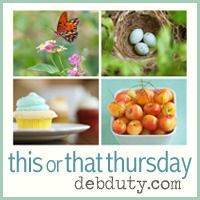 Labels: Crafty, Motherhood, Musings, Simplify